Virtual Anniversary Fundraiser in Recognition of National Philanthropy Day
November 15, 2021 @ 6:00 pm

-

7:30 pm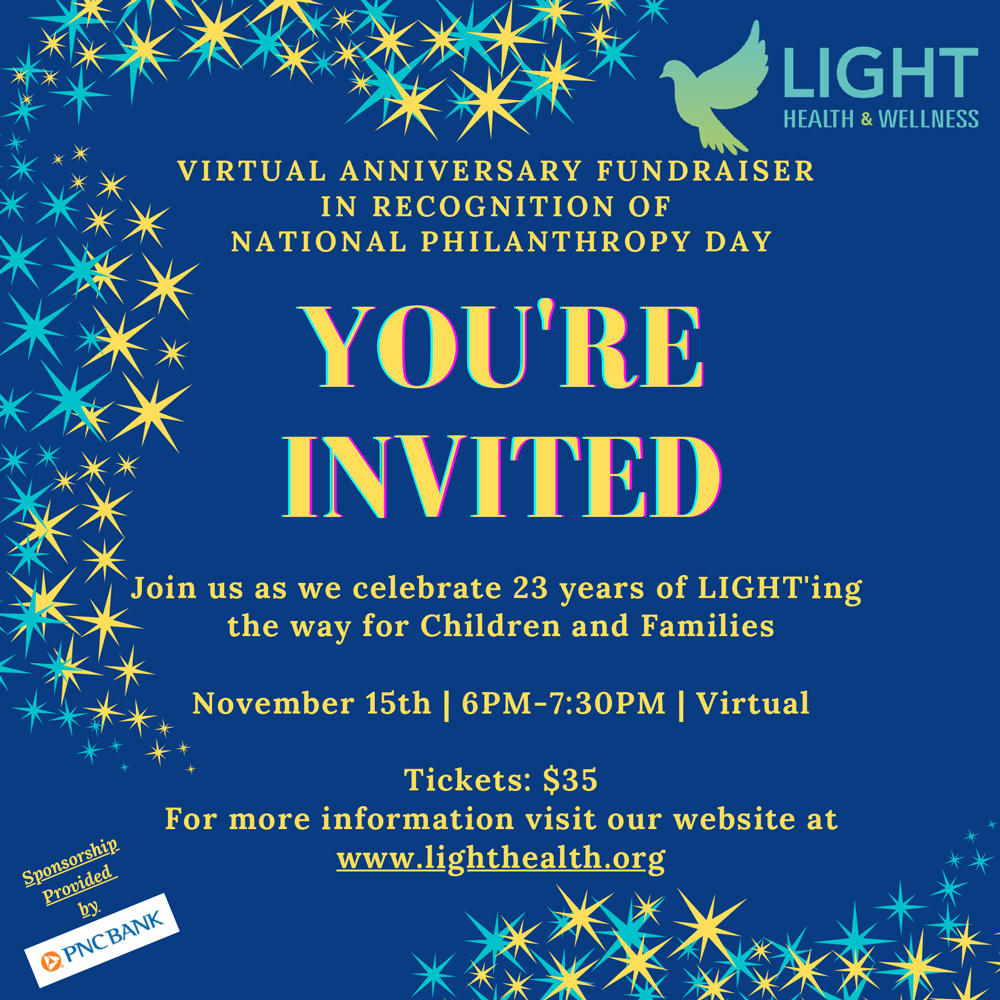 It is our esteemed pleasure to request your presence and support as we celebrate 23 years of "Still LIGHTing the Way and Helping our Children to Reach for the Stars". LIGHT Health and Wellness Comprehensive Services, Inc. (LIGHT) will mark this momentous occasion by hosting a virtual fundraiser.
For more than 23 years, through the promotion of health, wellness and education, LIGHT has been at the forefront of serving women, children and families whose lives have been impacted by HIV, poverty, substance abuse, mental health and trauma. At the core of our infrastructure, our child care center has been a safe haven and a beacon of shining LIGHT for the communities and residents of Baltimore City; providing a healthy start in educating some of the city's most vulnerable and at-risk children. It is LIGHT's vision to safeguard the support and continuity of the family unit, and to get your support in ensuring LIGHT continues to Shine Bright to help in guiding others to comprehensive health awareness and advocating for a healthy family unit.
On Monday, November 15, 2021 LIGHT will host its Anniversary Fundraiser virtually in recognition of National Philanthropy Day. This event will serve as LIGHT's principal fundraiser for the year but we need your help in making this vision come to LIGHT.
The past 18-months have interrupted our sense of normalcy and our comfort in gathering to celebrate these milestones, but LIGHT is committed to continuing the advancement of our communities, uplifting families and advocating for them to carry the torch into future generations. We are calling on our community philanthropists, corporate and private supporters to help us in fulfilling this mission.
For this special occasion, we hope that you will consider supporting LIGHT and our fundraising efforts by attending our virtual event. We anticipate the virtual fundraiser to draw attention from the public and private sectors, including elected officials, corporate leaders, community partners and private citizens.
We look forward to your affirmative response in support of this fundraiser. Should you have any questions or need further details, please contact us at 443-524-0220, ext. 117 or email lightgala@lighthealth.org.
Individual tickets are available for sale at the low price of $35 per attendee. Additionally, sponsorship opportunities are still available. Please click here for more details.
With your support, we can continue LIGHTing the Way to a Brighter Tomorrow. Thank you for your consideration and generosity.
Sincerest Regards,


Founder/CEO